Physical Therapist in Barrington New Jersey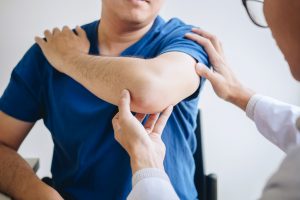 Let us put you on the Fast Track to recovery! At Fast Track Physical Therapy, we are conveniently based in Somerdale, a short drive for residents seeking a physical therapist in Barrington, New Jersey. We are privately owned, and outpatient-based and our therapists are focused on the best possible care and returning our patients to full physical health and function as quickly as possible.
From our years of experience in the business, we're familiar with what patients see in corporate-owned facilities. Often the focus is more on profit and quantity of patients than on quality care. If this sounds familiar, you should know you have a better option! We use the latest state of the art equipment in our Somerdale facility, but we also know that our most important equipment is our professionals' skilled hands…and your therapist will always be on hand to help you perform the techniques with you.
At Fast Track, our goal is to create a personal connection with our patients and ensure that our treatment meets their needs. It starts with you meeting your personal therapist, who carefully evaluates your pain or injury and what needs to be done for you to heal. You will both then develop an ideal plan for recovery, and you will be meeting with that same therapist each time you visit. Our office won't allow you to be discharged until we think you've achieved the best possible outcome.
Fast Track is completely committed to your satisfaction. A large number of our patients have been referred directly and were thrilled with our therapy services. We've also had many patients come to us after being dissatisfied with a larger facility and been very happy with the results. We accept most major insurances, and we'll be sure to verify that you're covered before your initial evaluation.
Reach out to Fast Track today and see why we're the preferred choice of residents seeking a physical therapist in Barrington, New Jersey. Get on the Fast Track to a pain-free life again!