Physical Therapist in Barrington New Jersey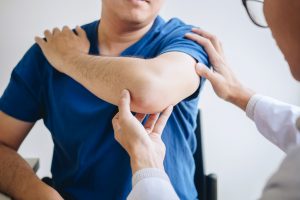 At Fast Track Physical Therapy, we are conveniently based in Somerdale. We are a short drive for residents seeking a physical therapist in Barrington, New Jersey. From our centralized location, we serve residents throughout Camden County, and we can help you recover from injury or surgery and feel your best again. Let us put you on the Fast Track to recovery!
We are privately owned and outpatient-based, and our therapists are focused on the best possible care and returning our patients to full physical health and function as quickly as possible.
Your Experienced Physical Therapist Near Barrington, NJ
From our years of experience in the business, we're familiar with what patients see in corporate-owned facilities. Often the focus is more on profit and quantity of patients than on quality care. In many cases, the larger facilities are committed to a one size fits all approach, and you may have experienced a regimen that simply doesn't work for you.

If this sounds familiar, you should know you have a better option! We use the latest state of the art equipment in our Somerdale facility, but we also know that our most important equipment is our professionals' skilled hands…and your therapist will always be on hand to help you perform the techniques with you.
We Put Your Needs First.
At Fast Track, our goal is to create a personal connection with our patients and ensure that our treatment meets their needs. It starts with you meeting your personal therapist, who carefully evaluates your pain or injury and what you should do to heal. You will both then develop an ideal plan for recovery, and you will be meeting with that same therapist each time you visit. Our office won't discharge you until we achieve the best possible outcome together.
Fast Track makes your 100% satisfaction and full recovery our mission. Much of our business comes from referrals, and we have a long list of satisfied patients! We've also had many patients come to us after dealing with frustration with a larger facility and been very happy with the results. We accept most major insurances, and we'll be sure to verify that you're covered before your initial evaluation.
Our Health & Fitness Center is a major part of your recovery. Your membership includes periodic re-assessments of your progress. As you recover, we help adjust and progress your training program, and get you closer to achieving your fitness goals.
Let our experienced staff help you improve your physical well-being through individual programs. Our programs include weight loss, core training, muscular development and balance, post rehab, sports conditioning, and postural improvements. We designed our Post-Physical Therapy Gym Program to encourage Physical Therapy patients to continue with their rehabilitation goals post discharge. The post-therapy program allows the Physical Therapist to monitor our patients' progress. Of course, we will be available for any questions or concerns for the months following Physical Therapy.
Take The First Step Today!
Contact us today for more information or to make an appointment. You will immediately connect with our professionally trained, friendly receptionist. Our receptionist will provide you with a convenient appointment time within 24-48 hours of your phone call if possible. For acute injuries, we make every effort to provide service the same day.
Reach out to Fast Track today and see why we're the preferred choice of residents seeking a physical therapist in Barrington, New Jersey. Get on the Fast Track to a pain-free life again!
Have You Heard About The Silver Sneakers Program?
Have you heard about the Silver Sneakers program? Fast Track is proud to partner with Silver Sneakers, a free fitness program that's available to many Medicare Advantage members. We can work with you on a free fitness assessment and set up your workout routine. During your time with us, we'll provide ongoing support in keeping you healthy! Click here to find out more about the Silver Sneakers program and see if you are eligible.
Need additional items to take home and assist in your fitness and recovery program? Visit the Fast Track products store, and pick up cold packs, therapeutic putty, stretch out straps and more at an affordable price. Our store is part of the complete package of recovery aids that we offer to our patients!
Want to learn more about our services, company functions and fitness advice? Be sure to follow our Facebook page, and stay posted on fitness programs and more!