Physical Therapist in Lawnside New Jersey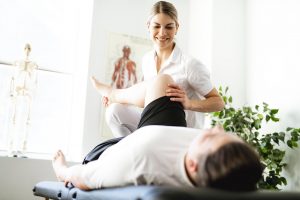 At Fast Track Physical Therapy, we treat clients who need physical therapist in Lawnside New Jersey. As a center, we aim to quickly restore your physical health and functions with world class care. It is our one-on-one, personalized treatments that gives us our reputation of having the best licensed physical therapist in the area. Our facility is determined to bring the highest quality of care to give our patients their maximum functional level to hit their personal goals.
With Fast Track, our professionally trained receptionist warmly provides you with the best appointment time to get the initial evaluation within 24-48 hours if possible. In the case of an acute injury, we do what we can to meet with you for a same day appointment.
Your initial evaluation will includes:
A comprehensive and thorough review of your medical history.
Current medications you are taking, and physician recommendations.
A complete physical examination.
Using this information, we then:
Formulate and discuss the details of the assessment so you can understand what is being looked for and tested.
Medical and physical therapy diagnosis to better help you understand the severity of the complications that help.
Prognosis for an expected treatment and healing time.
An individualized plan of care for treatment to get the treatment started.
After your initial evaluation, our licensed physical therapist can get started on treatment. With each visit, clients learn the appropriate manual techniques, modalities and exercises designed to re-learn the mind/body connection for the injured muscle. For us, educating you on the care you are receiving, and providing an on-going evaluation of your condition is essential to developing trust with your body.
Please, get better with us. For physical therapist in Lawnside New Jersey-go with Fast Track Physical Therapy. Build a better tomorrow by clicking here today.