Post-Surgical Rehabilitation in South Jersey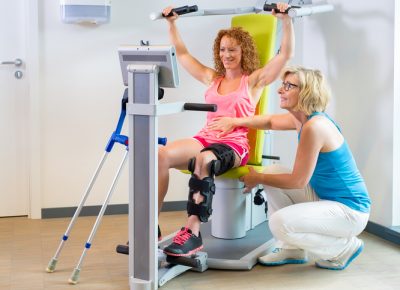 Are you planning for or have recently had a surgery? Fast Track PT offers first class post-surgical rehabilitation in South Jersey from our facility in Somerdale. We can ensure your body is healing properly and restore your overall function.
With our post-surgical rehabilitation, we work to restore you as close to normal health as possible, if not the state your body was before your surgery-requiring condition. Most medical professionals strongly recommend physical therapy within a few days or weeks following the surgical procedure.
The benefits of post-surgical rehabilitation include:
• Improved muscle strength and function through specific exercises
• Engaging joint mobility and flexibility to reduce discomfort
• Enhance blood flow to reduce swelling and after effects
• Re-training body parts affected by an illness
• Reinforcing balance after a long period of immobility
• Preventing growth of unwanted scar tissue, and mobilizing affected regions in the body
• Preventing infection and blood clots
Contact us today for your post-surgical rehabilitation in South Jersey. A member of our staff will meet with you and design a comprehensive plan to help you to a better normal again.
See below for a partial list of our procedures for post-surgical rehabilitation in South Jersey:
• Reconstruction of any one or more of the four major knee ligaments: anterior cruciate ligament (ACL), medial collateral ligament (MCL), posterior cruciate ligament (PCL) and lateral collateral ligament (LCL)
• Surgical fixation of fractures, including open reduction and internal fixation (ORIF), a two-part surgery used to fix broken bones where the broken bone is reduced (put back into place) and an internal fixation device is placed on the bone (e.g., screws, plates, rods or pins) to hold the bone together
• Shoulder post-surgical recovery for rotator cuff tears, labral tears, superior labrum anterior and posterior (SLAP) tear or lesion, arthroscopy and more
• Knee, hip, shoulder and ankle joint replacements
• Arthroscopic knee surgeries (e.g. meniscectomies, meniscal repairs)
• Ligament and tendon repair, including Achilles tendon repairs
• Arthroscopic hip surgeries (e.g. labral repairs)
• Nerve releases (e.g. cubital tunnel, radial tunnel, carpal tunnel, tarsal tunnel)
• Neck and back surgery (e.g. fusions, laminectomy, decompression and discectomy)
• Nerve compression release
• Bone or joint fusion (arthrodesis)
• Tendon transfers
• Bunionectomy
• UCL reconstruction (Tommy John surgery)