Physical Therapist in Lindenwold New Jersey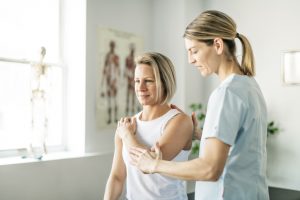 Fast Track Physical Therapy is ideally located for residents searching for a physical therapist in Lindenwold New Jersey. We're just a short hop away in Somerdale, and we are a privately owned facility dedicated to first class, outpatient-based care for our patients. Our skilled staff will develop a personalized plan to help you restore your physical function, and put you on the Fast Track to recovery!
In our years in this field, we've seen many cases of patients receiving less than adequate care from corporate owned rehab facilities. In many cases, they put patient quantity above quality care. If this has happened to you or a loved one, we're here to show you that you have better choices! At Fast Track, we use state of the art therapy equipment, but we also believe that the skilled hands of our therapists are the most important piece of equipment we offer. Our professionals are always here to help you execute your techniques for as long as it takes.
Your Experienced Physical Therapist Near Lindenwold New Jersey
At Fast Track, we treat a variety of conditions and ailments, including offering post-COVID-19 rehabilitation for recovering patients that may have spent an extended period in the hospital. We can help you with orthopedic injuries, recovering from motor vehicle accidents and more…click here to find out more about conditions we treat.
Our staff makes every effort to connect with you on a personal level, and create a plan for care that is designed specifically for you. In your first visit, you'll meet with a licensed therapist who will conduct a detailed evaluation of your injury. That therapist will put together a treatment plan that includes one-on-one personal care. Each time that you visit our facility, you'll meet with that same therapist, and we won't discharge you until we've helped you achieve the best possible outcome.
From the moment you call us for therapy until you're discharged, we strive to achieve your 100% satisfaction. Many of our patients are referred to us directly from physicians and were thrilled with the care they received. Many others have come to us dissatisfied with care elsewhere and have shown us high praise at the difference. At Fast Track, we accept most all major insurances, including Medicare, and we'll ensure that you're covered before your initial evaluation and that your out-of-pocket costs are as low as possible.
In addition, our service doesn't stop at just your rehabilitation and recovery. We offer gym memberships and post-physical therapy service in our state of the art fitness center. You can continue to keep your body strong and your health improving, with our therapists there to continue guiding you towards positive outcomes.
We offer treatment for a variety of conditions, including (but not limited to!):
Orthopedics
Concussions
Balance and Gait Difficulties
TMJ Disorders and Associated Headaches
Motor Vehicle Accident Injuries
Work Related Injuries
Vestibular Rehabilitation
Post-Surgical Rehabilitation
Pre-Surgical Rehabilitation
Post-COVID Rehabilitation
Let Fast Track be your choice for a qualified and compassionate physical therapist in Lindenwold New Jersey. Call us today or use this online form to get on the Fast Track to a pain-free life again!
Ask us about the SilverSneakers program! The SilverSneakers program is included with some Medicare Advantage plans, and offers free fitness services for eligible seniors! We are proud to be partnered with SilverSneakers…we offer members free fitness assessments, assistance with planning workout routines, and support and advice for staying healthy. Click here to find out if you are eligible for the SilverSneakers program!
Visit our store for helpful pain management and exercise products: at our facility store, we offer Biofreeze pain management products, as well as exercise tools to help you along in your physical therapy. Click here to visit our store page to see what we have on hand, and feel free to ask about anything you can't find!
Do you know someone that is looking for a career in the physical therapy community? We're hiring! Have a look at our Careers page here, and see if there is something that suits your talents and can get you started working for one of the top physical therapy centers in South Jersey!
Want to see updates, advice and more for your own physical fitness? Be sure to Follow our Facebook page!